Contact & Location
Connect with Us
Casa Colonial Beach & Spa
If you have further questions about the resort, would like to make arrangements for an upcoming visit to Puerto Plata or have a comment or suggestion about a recent visit with us, please contact us and one of our associates will be happy to assist you.
Casa Colonial Beach & Spa
Playa Dorada Puerto Plata, Dominican Republic
Casa Colonial Beach Resort & Spa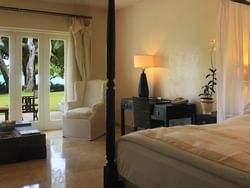 The first Small Luxury Hotel of the World in the Dominican Republic, this five-star luxury boutique hotel is the crown jewel of the collection.
How to get here:
Located in Puerto Plata on the north coast of the Dominican Republic, Casa Colonial Beach & Spa is one of the country's premier five-star resorts. The resort is accessible from two local airports: Puerto Plata Airport is only 15 kilometers (10 miles) away and the Santiago Airport is 70 kilometers (45 miles) away.